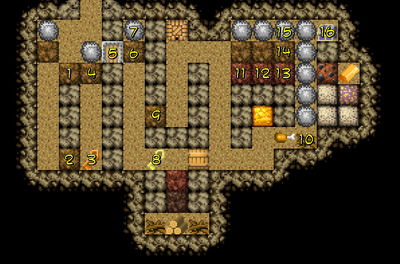 1-3: Dig through the dirt and pick up the bronze key.
4-8: Make your way back to where block 1 was, and dig out block 4. The boulder will fall and you can open the bronze door with your bronze key. Dig through the dirt dropping boulder 7. After it falls, crush the boulder and retrieve the gold key.
9-16: Dig through dirt block 9, then carefully avoid the poison darts. Break the wood and move back to dig out the dirt blocks. Avoid the falling boulder, then smash it. Use the gold key to open the treasure!
(Uses 14 energy)